FORSTA is located at KBIC Building lt. 2, Jl. Pulogadung 23, Jakarta Industrial Estate Pulogadung, East Jakarta. The first product produced by FORSTA is Surgical Sutures with the ELVA brand which has been registered with a number from the Indonesian Ministry of Health on July 1, 2021.

With a vision to become "Leading Medical Device & Diagnostic Manufacturing in Indonesia with a Global Presence", FORSTA has received a Production Certificate in September 2020 and a Certificate of Good Medical Device Manufacturing Practice (CPAKB) in November 2021.

With all infrastructure, systems and procedures carefully designed following the requirements for international certification, FORSTA has obtained Halal Assurance System Certification from the Institute for the Study of Food, Drugs and Cosmetics – Indonesian Ulama Council (LPPOM – MUI) in June 2022. In addition, FORSTA has also received the ISO 13485 : 2016 Quality Management System Certification with the official MD number 756131 from BSI Group The Netherlands in July 2022. With the issuance of this certification, we are ready to contribute more in increasing national independence for local medical device products and we are ready to be registered in regional markets.

FORSTA operates a 1172 m² facility with a manufacturing area of 839 m², a warehouse RMPM of 71 m², and a warehouse FG of 101 m². Our factory has adequate facilities and utilities, including a clean room with a cleanliness class classification of 100,000 particle/cubic feet, an EMS (Environment Monitoring System), a BMS (Building Management System), Cold Storage (2-8ºC), Air Handling Units (AHU), waste storage areas (general and B3), and a Waste Water Treatment Plant (WWTP). Our surgical suture production machinery and equipment are all highly trained and well-maintained. We have a surgical thread manufacturing capacity of 1 million pieces per year, which can be expanded to 10 million pieces per year with all of these supporting facilities.

Furthermore, our factory is getting prepared to become a center for the production of medical devices that focuses on supporting government policies so that the medical device industry in Indonesia has national resilience and independence. As a result, Forsta will develop a new production line to produce various types of medical devices that are strategically needed in Indonesia and in line with Kalbe Group's business in the next 5 years.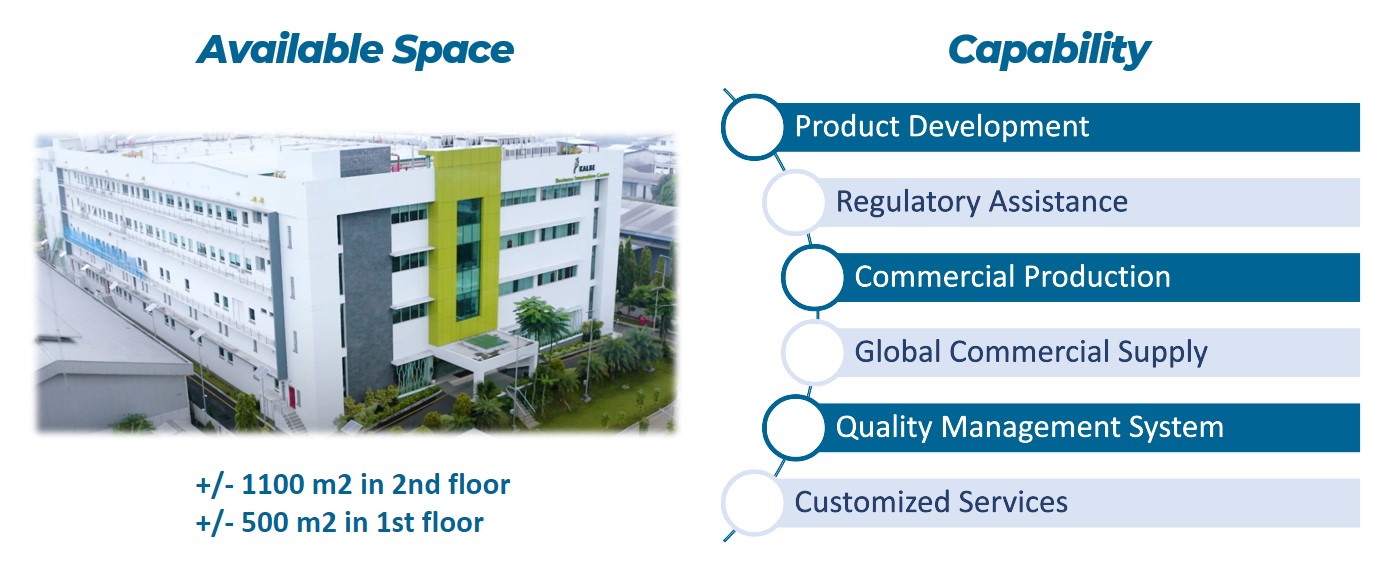 FORSTA provides trustworthy capabilities in product development, regulatory compliance assistance, quality product manufacturing and supply, quality management system maintenance, and other services tailored to your needs. FORSTA welcomes you to join us in addressing your demands as well as the needs of the Indonesian market for high-quality medical devices. FORSTA is excited to have you as a business partner.